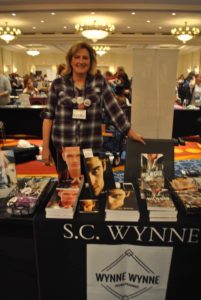 GRL was an interesting and fun experience. It was crazy meeting so many people who I've met on line. Seeing them in person was amazing. Most people were friendly and in a great mood, a few were in their own world, but that's pretty much life, right?
It was cool meeting all the readers and other authors. Where else can I spend time with people who are as obsessed with books as I am?
I was lucky enough to join with Kale Williams, Felice Stevens, and Josh Lanyon for a reading. Kale read from each of our books, and he was amazing as usual. What an amazing voice talent he is. One of the best.
I plan on going to GRL in 2019 too. It's going to be held in Albuquerque, New Mexico from October 17-20. Will you be there? If so, come see me and give me a hug!
S.C.